Trina Storage launched its new lithium iron phosphate (LFP) battery storage cabinet and Sungrow launched its new range of residential battery storage at Intersolar Europe last week.
Trina Storage, the energy storage division of Chinese vertically integrated photovoltaic module manufacturer Trina Solar, provides fully integrated battery energy storage system (BESS) solutions to the renewable energy and grid storage markets.
Following the official launch of Trina Storage in February this year, at the Intersolar Europe / Electrical Energy Storage Europe trade event held last week in Munich, Germany, the company unveiled Elementa, its battery cabinet. LFP.
Elementa is a fully integrated, modular energy storage solution, designed for plug and play installation with less wiring required and easier logistics than some of its competitors. This standardized design feature helps reduce installation times by up to 70%, while simplifying the process could reduce capital expenditure (CAPEX) on systems by more than 5%, according to Trina Storage.
A corporate video posted by the company on YouTube shows that the minimum capacity of the liquid-cooled cabinet is 1,800 kWh and a C rate of 0.25-1 C. The cabinet is designed to scale with the environment. customer needs. "Fully integrated" means that it includes batteries and a battery management system (BMS), thermal management and safety functions.
Trina Storage claimed that it also allows for easy maintenance and higher uptime. Two-way flow liquid cooling system ensures even heat dissipation, which means longer battery life and better performance.
Trina Storage unveils 50 MW project in UK
While the Elementa modular solution will be available from 2022, the company has also officially announced its first large-scale BESS project, which is located in rural Cambridgeshire, England.
Trina Storage provided the integrated BESS at the 50 MW Burwell site of the SMS Plc customer. SMS is a UK energy infrastructure and services company.
The BESS was designed "very securely and is indeed fully scalable for years to come," said Panagiotis Kamperidis, Trina Storage technical project coordinator.
SMS's managing director for grid-wide energy storage, John Flaherty, said his company was building a "large fleet" of BESS projects across the UK.
The Burwell site comprises 15 CATL battery cell bays with power conversion systems (PCS), medium voltage equipment and a large 132 kV transformer connected to the local distribution system (DNO). Its connection to the network allows SMS to access all available paid services, Flaherty said.
SMS Engineering and Projects Director Phil Norrish said that thanks to Trina Storage, the project uses one of the first CATL liquid-cooled products in the UK, housing a total of 157 battery units on the 50 MW / 56.2 MWh site. Norrish said that in addition to the full supply of equipment, Trina helped oversee the management of the project and overcome any challenges that arose.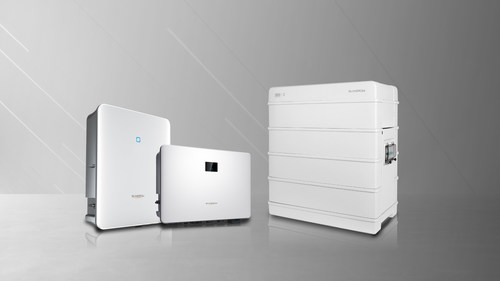 Sungrow launched the configurable residential BESS up to 25.6 kWh
Elementa from Trina will take it to the competitive field by providing modular, integrated and containerized solutions for large scale applications which also include Megapack from Tesla, LeBlock from Leclanche, Intensium Max from Saft and others from Fluence, Wärtsilä and PylonTech.
Chinese solar PV inverter company Sungrow recently launched its own such product. Storage-Energie.news recently reported that US developer Key Capture Energy was purchasing 390 MW for its projects, but at Intersolar Europe, Sungrow has focused on launching new residential products.
In addition to the new residential PV inverters covering both single and three phase power and ranging from 2kW to 20kW and hybrid inverters ranging from 3kW to 10kW, Sungrow has introduced a high voltage battery system.
The available capacity varies from 9.6 kWh to 25.6 kWh. Comprising both an inverter and expandable capacity batteries, the Energy Storage System (ESS) is designed for easy plug and play installation. Sungrow said that a single installer can install it in most markets.
The ESS allows the self-consumption of renewable energy on site as well as an automatic backup which is triggered transparently in the event of a power cut. It can also be tasked with drawing electricity from the grid at cheaper off-peak times and can be retrofitted alongside existing home PV systems. It is also adaptable, with the addition of more inverters, to small to medium commercial applications that require up to 50 kW of power.
Inverters and battery systems can be monitored through Sungrow's iSolarCloud monitoring platform.