The Last Straw project is meant to commemorate McDonald's transition away from plastic straws
Content of the article
Nicole Wolf is proof that humanity in art can be found anywhere.
Content of the article
The Calgary artist found time in an air raid shelter in Ukraine while on a humanitarian mission to design a special project commissioned by McDonald's.
The Last Straw project is meant to commemorate the fast food giant's transition away from plastic straws. The restaurant chain had the last packets of single-use plastics turned into trays and enlisted 15 artists from across Canada, including Wolf and fellow Calgary native Jarett Sitter, to design the liners for them to immortalize the change.
Content of the article
Wolf, 32, looked to her surroundings in Calgary for inspiration and the many ways people can impact the environment.
"It's dreaming of what it would be like if we lived more in community and were really aware of what we use and how we use it again," the freelance artist said.
Content of the article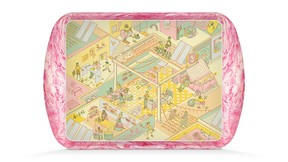 Her snapshot of life delves into the product cycle and the many ways people can use everyday objects more sustainably. This can mean having roommates or reinventing old outfits instead of constantly buying new ones, or even turning them into doll clothes instead of throwing them away. The scene also depicts composting for the garden, recycling paint from kitchen scraps, reusing rubber from old tires to make chairs, and using solar panels for energy. The more one looks at the artwork, the more one will see in the highly detailed scene.
Content of the article
For Wolf, it's a message that goes beyond just taking care of the earth, but it's a way of life and taking care of each other.
"I think there's a perspective that how you take care of your environment is a reflection of how you take care of yourself and your loved ones," Wolf said. "While it's not always possible, of course, to create a zero-waste life, it's the little things. . . It's kind of a change of heart and pace. There's a level of sacrifice to do to live a little slower and a little smaller and consume less, but I think there can be very good results even in your personal and relational life.
Content of the article
Sitter, 37, chose to focus on environmental sustainability, painting a picture of an achievable green future in Alberta.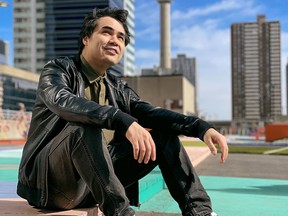 His vision showcases different types of energy – wind, solar and hydro – as well as different approaches to lifestyles, including more vertical living, recycling, reliance on public transport and cycling, electric cars and biodiversity. .
"I think it may even push further than what I'm trying to show here," he said. "I was very deliberate in showing that there is still a city, there are still roads, transport and infrastructure, but how that can be more thoughtfully integrated into nature."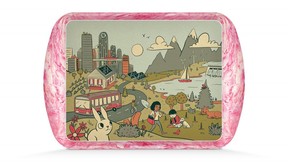 Sitter was born and raised in Calgary and is also a freelance artist who works with magazines and the music world, while contributing to the animation and post-production of numerous music videos. His art is character driven and often explores the world around those characters.
The trays themselves were created by The Rogerie in Kelowna, BC – the swirl of peppermint colors reflecting the old white and red straws – and will be donated to local Ronald McDonald House charities for display. or auctioned.
jaldrich@postmedia.com
Twitter: @JoshAldrich03