If paradise is where every dream comes true, then Dubai certainly qualifies to be crowned mankind's paradise on Earth, both visually and viscerally. With its iconic landscapes and monumental structures, Dubai has always been known to lovingly nurture and foster dreams by offering all the resources that enable humans and open highways for them to realize their potential.
Its latest offering to the world, the Mohammad bin Rashid Library opened its magnificent doors to the public on June 16, 2022. Justifying Dubai's status as a haven of architectural marvels, its structure is that of a massive open book sitting on a stand traditional wood. Located in the Al Jaddaf district overlooking the scenic waters of Dubai Creek, this book-lover's sanctuary spans 54,000 square meters of land and can accommodate a thousand visitors at a time.
Built at a cost of 1 billion dirhams ($272.3 million), the Mohammed bin Rashid Library rises seven stories high and has nine specialized libraries – the General Library, the Emirates Library and one for young adults, children, special collections, maps and atlases. , Media and Arts, Business and Periodicals. It also houses an amphitheater that can accommodate more than five hundred people at a time, a picturesque garden and a café spread over two floors.
It houses more than one million print and digital books, more than six million research articles, 73,000 musical scores, 75,000 videos, nearly 13,000 articles, more than 5,000 print and digital historical journals, and approximately 35 000 print and digital newspapers from around the world. We're certainly not exaggerating when we say it's a bibliophile's paradise!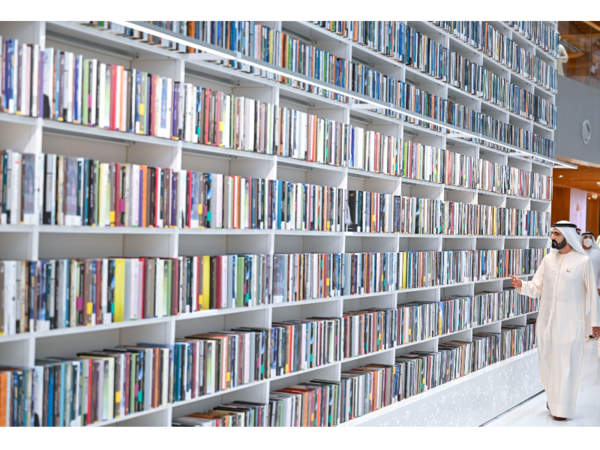 Here's more about her jaw-dropping attributes. The Mohammad bin Rashid Library will use cutting-edge technology and artificial intelligence, including an automated storage and retrieval system for e-books, self-service kiosks, a book scanning lab and smart robots to respond to visitor requests.
For such a mammoth, ultra-sleek structure, the Mohammed bin Rashid Library is an example of sustainability. Its structure is ecological and energy efficient since ten percent of its energy needs are met by the solar panels installed on its roof. Its unique design has reduced its water consumption by fifty percent while insulating the interiors from heat and keeping them cool at regulated temperatures. The windows in its ceiling let in natural light, greatly reducing its electricity consumption and the water is recycled and used in the surrounding gardens.
His Highness Sheikh Mohammed bin Rashid, Vice President and Ruler of Dubai in whose honor the library is named, shared his delight as he announced the historic event of its opening on Twitter. "Today we are launching a cultural and intellectual edifice for our new generations, through which we aim to promote reading, spread knowledge and support researchers and scientists," His Highness Sheikh Mohammed wrote on Twitter.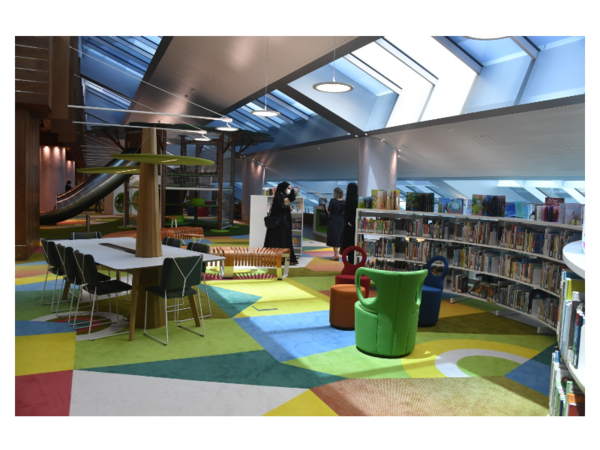 Education is essential to the growth and overall development of an individual, and it means above all acquiring knowledge using the resources available. Knowledge management ultimately leads to development in sectors such as economy, technology, governance and health. The Mohammed bin Rashid Library, with its treasure trove of resources, plays a pivotal role as a center of knowledge in shaping the future of our society.
Mohammad Al Murr, Chairman of the Board of Trustees of the Mohammed bin Rashid Al Maktoum Library Foundation, observes: "The Mohammad bin Rashid Library is one of the most unique public libraries in the region and in the world. This ambitious monument reflects the vision and mindset of His Highness, aimed at improving the UAE's knowledge and culture sector and building a broadly enlightened and scientifically rich generation to lead our future and elevate our culture. The library is an important and inspiring milestone among national initiatives. It sheds light on the history and culture of the UAE and the Arab world, adding a new dimension to the knowledge-based economy of the UAE, helping to redefine the concept of libraries in the 21st century, setting trends future for the next generation of technology-enriched libraries. ".
A picture of this great library in all its splendor is enough to revive the spirit of reading in the hearts of mankind. Plus, it's now ultra-cool to be a reader as they now have one of the fanciest retreats to hang out in!
Disclaimer: This article is part of a featured content series on business in Dubai