Usually, when driving around Aotearoa in motorhomes, tourists and locals are more fascinated by the sight outside the window than by the mode of transport itself. But art curator Aimee Rafini wondered why you couldn't have both and curated a whimsical art gallery-inspired motorhome to help travelers have the ultimate immersive sightseeing experience through New Zealand's Coastal Arts Trail.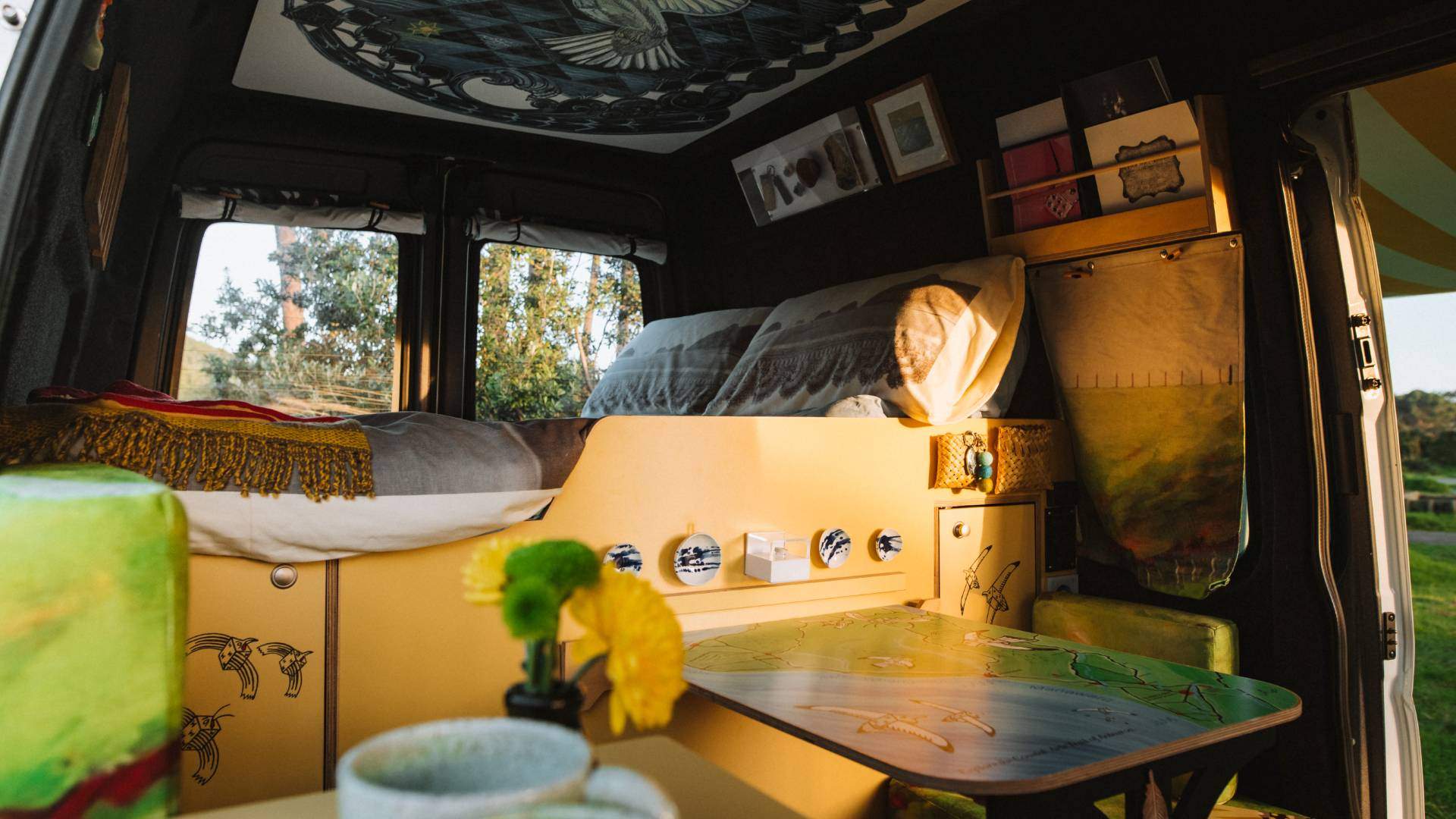 If you haven't ventured along the Coastal Arts Trail, this art-lover's trip through the regions of Manawatū, Whanganui and Taranaki is a must-do this summer. After five years of development, the trail was completed with financial assistance from the government to help communities affected by the loss of tourism during COVID. The easy, self-driving route allows drivers to reach over 50 stops along the lower west coast of the North Island, from well-known art institutions to hidden gems in small towns off the beaten path.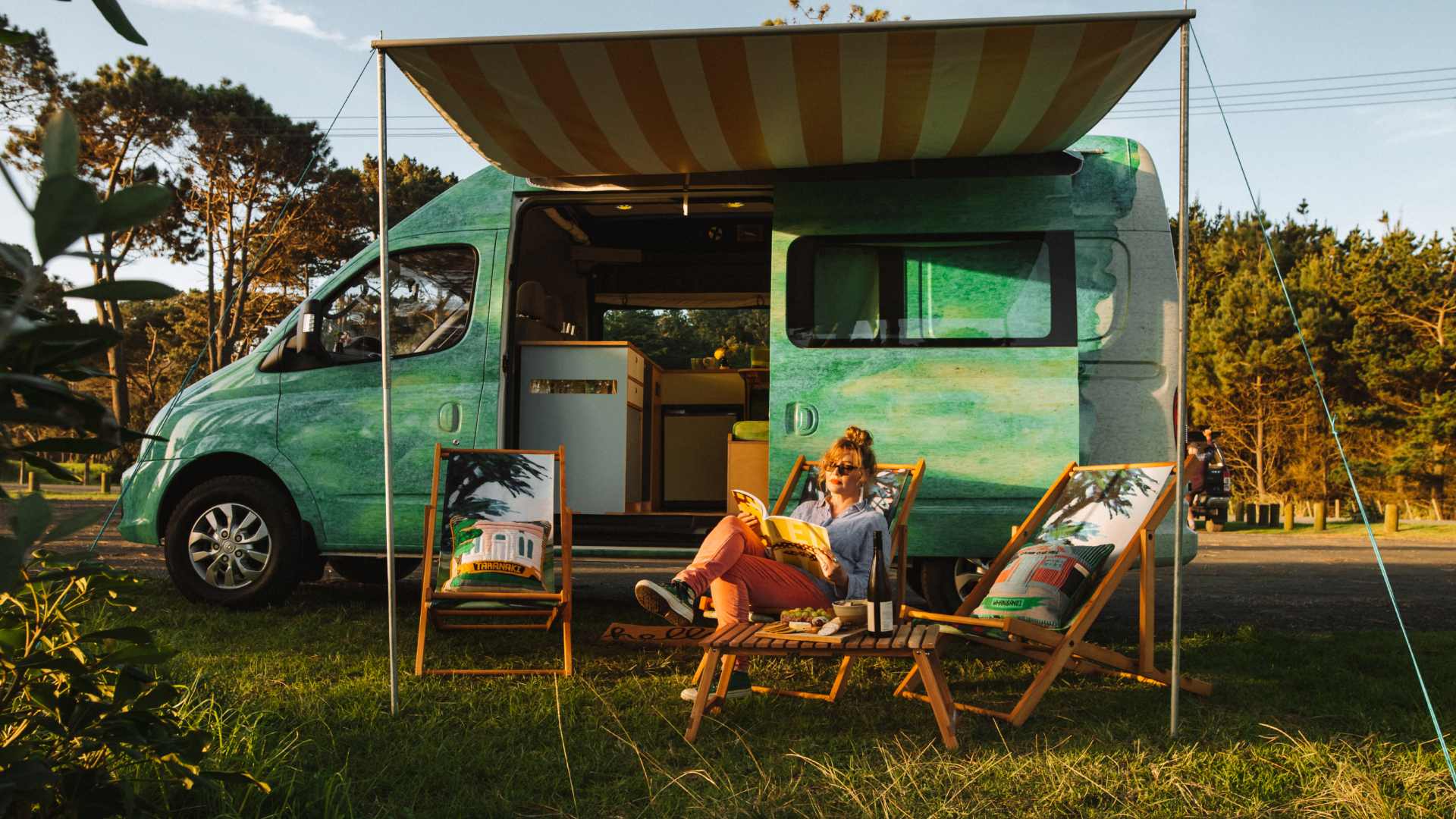 If that sounds a bit like you, this van-art-gallery hybrid — or "Vallery" as she's affectionately called — is a great way to tackle it. The van itself is a mobile gallery of over 50 eclectic works by 26 different artists, collected from area galleries and featuring commissions from local artists.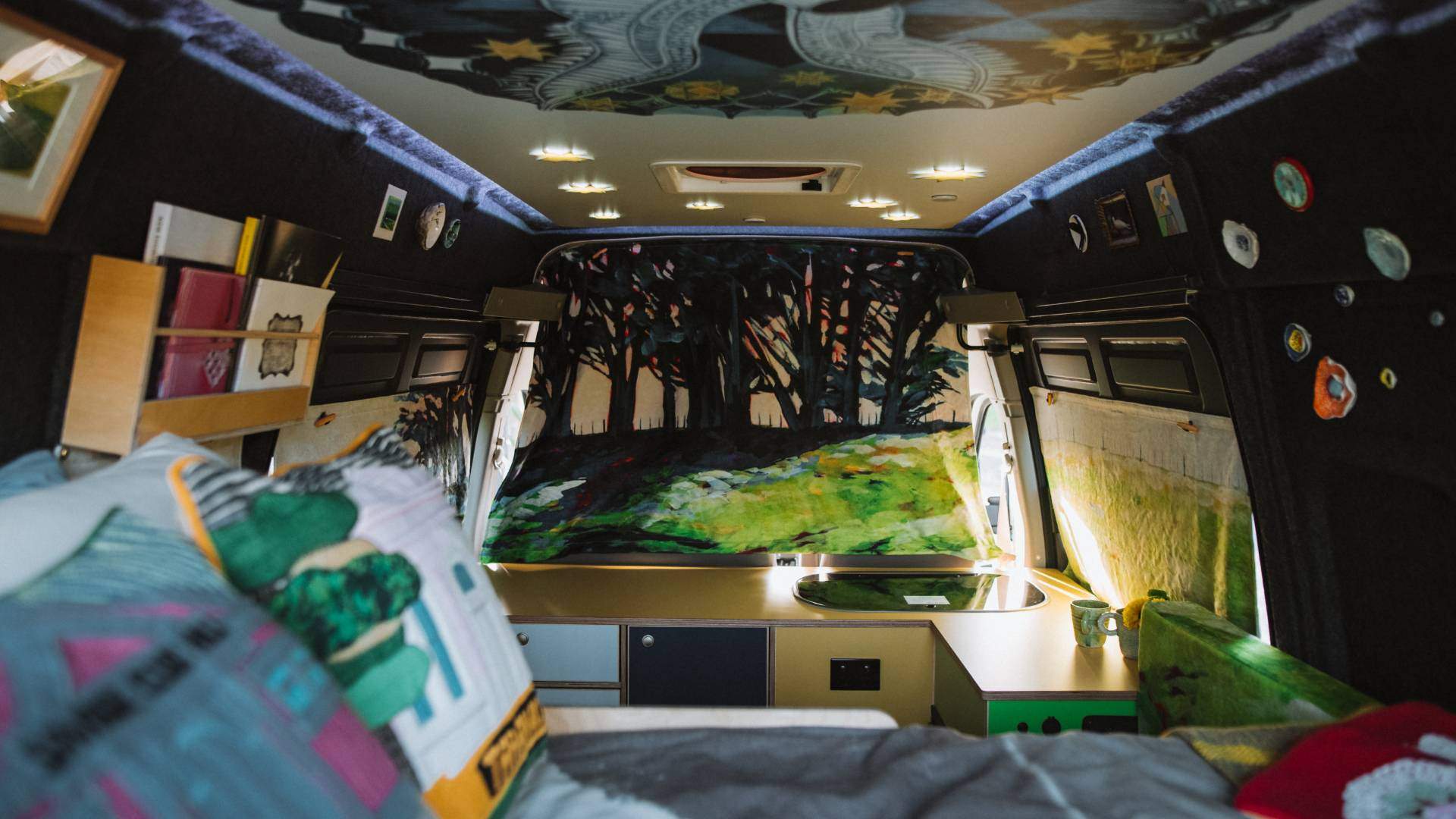 Those who stay in the van will be able to fall asleep under a glowing night sky thanks to a ceiling commission from Taranaki artist Gabrielle Belz. The drop-down curtains are adorned with a beautiful landscape by Manawatū artist Vonnie Sterritt, meaning even at night or on misty journeys, you'll be surrounded by greenery. Take a little exploration around the van and you will find many smaller artworks and sculptures from galleries along the trail, hidden in drawers and mounted in light boxes.
Even the van's groovy exterior is a work of art. Whanganui ceramic artist Ivan Vostina was commissioned to create a ceramic base made from local beach sand, which was then dipped in an ocean-inspired glaze and photographed to be the exterior. It makes the van look like handmade ceramics and is sure to bring smiles from other drivers – maybe when they pass you, if we're being honest. And yes, there is all the comfort you would want in a motorhome: comfortable bench seats that convert into a bed, a small kitchen, an autonomous water system and solar panels on the roof.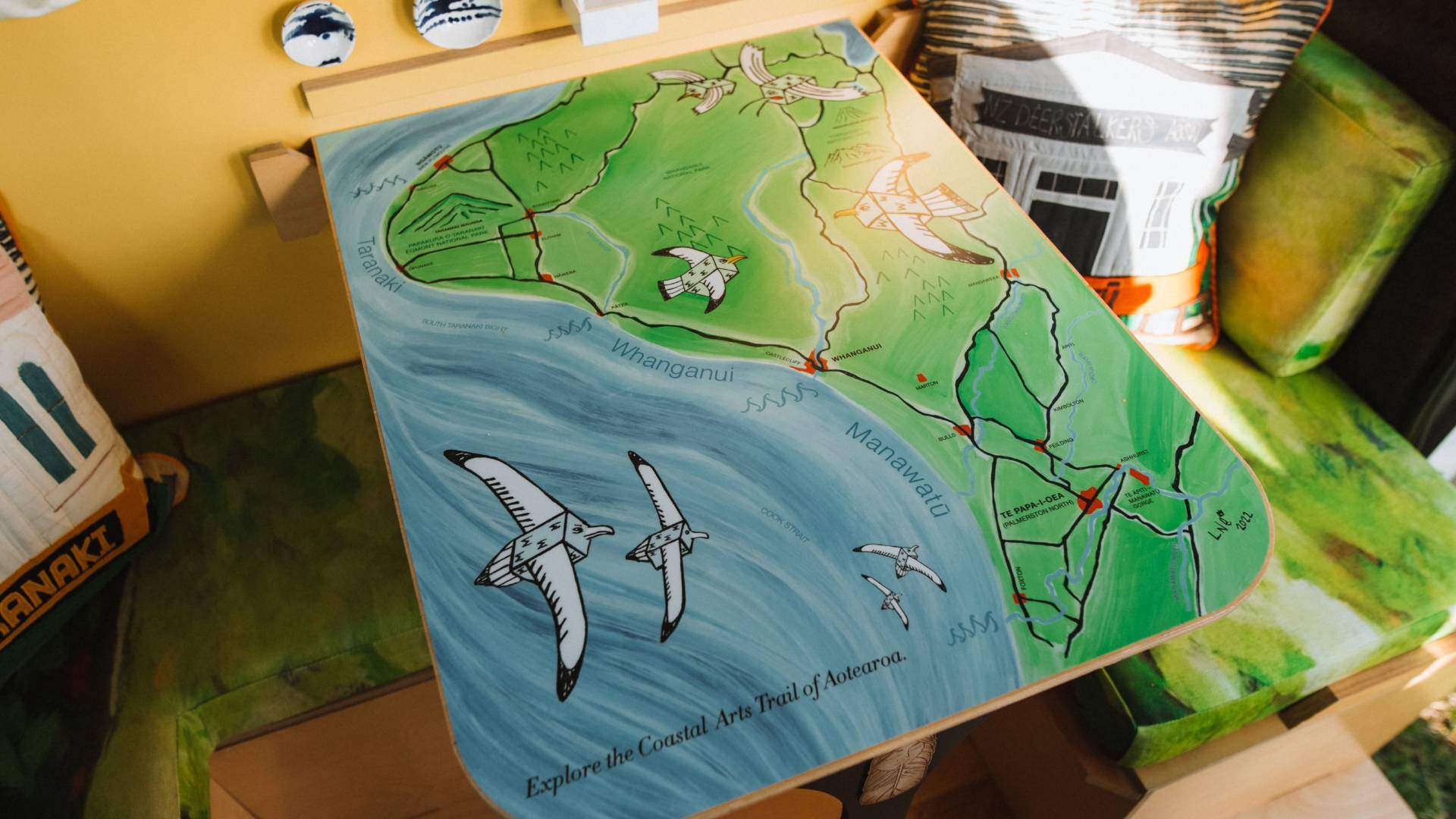 Rafini is the artistic curator of 'Vallery', and says that when she was first approached about the project, she wondered if the two worlds of 'art meets road trip' could co-exist.
"In the end, my curiosity got the better of me, and I love a challenge, so I couldn't resist the opportunity to make it work – I love it when art connects with people. people outside of a traditional white box space," she said.
"Vallery is a completely immersive art experience: travelers can sleep under the art, dine with the art, and lie on top of the art, and it's all comfortably and conveniently integrated. We've carefully sealed and protected works , and we've translated art into hard-wearing surfaces and fabrics so people can just relax and have fun."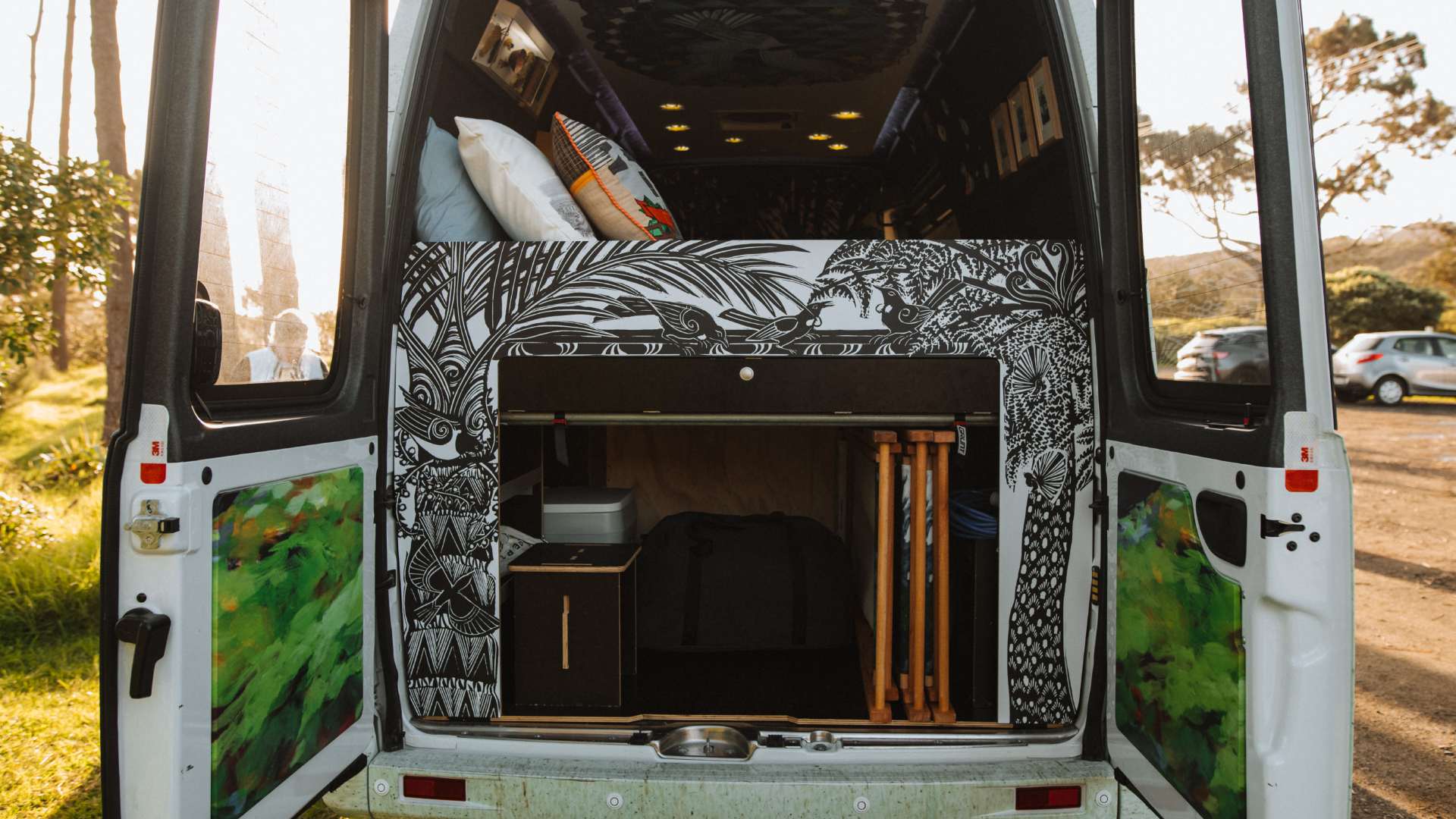 Vallery is an automatic diesel van available to hire now from Quirky Campers NZ.